In order to ensure maximum exposure to properties and realize their full potential, Real Estate Agents must have a professionally designed website that focuses on online marketing. Such a website can certainly generate real estate leads online (potential buyers and sellers), and increase the circulation of information on the properties they are trying to sell. Marketing Websites has taken this opportunity to guide Real Estate Agents and show them how to generate real estate leads online through their own specialized website.
Real Estate Website
The heart of your online lead generation is your real estate website. You have the chance to add value and give website visitors a chance to engage with your business. You shouldn't use your website as a platform to brag about how fantastic a real estate agent you are. Here is where a lot of agents mess it up. Customers are more interested in how much you can benefit them than in how great you are.

You have the chance to serve customers who have particular demands by using your website. Whether it's looking for houses for sale online, learning about areas and schools, or just obtaining suggestions on how to buy and sell houses.
Real Estate SEO
SEO is the ability to optimize a real estate website to appear on the top ten search results for relevant real estate keywords, such as "Real Estate Agent in Montreal" and "Homes for Sale in Laval". Make sure that the title, headlines, alt tag, and content of your website include relevant real estate keywords.
A good SEO practice is to constantly build links to your website.  You can do this by hiring an SEO agency, or make time every week to work on getting quality websites (preferably related to the industry) to link to yours.
Real Estate Web Design Layout and Features
When you give your business card to potential clients, they are more likely to visit your website before they even consider calling or sending an email. Therefore, it is crucial that your real estate web design is professional and clearly presents the properties being advertised for sale, as well as the value proposition you provide to your clients. Your Real Estate Agent website should be easy to use with a visible menu to help users navigate the site.
It should have several lead captures forms, on most (if not all) pages, preferably with different calls to action.
Let your potential clients know that you have tremendous experience selling real estate properties in their cities or areas.
Write an interesting "Meet the Team" page consisting of a fun and creative paragraph about each member of your team. Make sure to deliver a strong message that you and your team are capable of helping your clients buy or sell real estate, while making the entire experience easy and enjoyable.
If the majority of your business comes from certain communities, make sure you list any work you have done in these communities.

Social Media
Marketing on social media provides advertisers with the tools and options to target users, both geographically and demographically, as well as by interest. Social media marketing campaigns can result in a number of leads, at an affordable cost when designed and implemented properly.
Facebook is one of the best online resources for real estate lead generation. There are several social media strategies designed to engage and encourage the user to provide his/her contact information through a simple form. To give them an incentive, this may be completed in exchange for a free home evaluation or a list of foreclosed homes in a particular area.
Listing properties on social media is very easy. Simply copy the URL of the property listing that you are trying to sell, then paste and post it on your various Facebook pages. This will result in displaying your property to everyone who liked those pages.  Consequently, every time your post gets shared, the exposure reaches beyond your existing network.
Posting regular articles and updates about your business and industry will position you as a reputable Real Estate Agent with great knowledge and authority. We recommend a real estate social media content marketing strategy that includes an 80/20 ratio. This implies 80% of the content you post will cover lifestyle, homes of the week, local events, home maintenance tips and other client interests. The other 20% will be content designed to promote yourself and your listings.
Twitter is another great option for social media marketing.  Among many other benefits, it also doesn't carry some of the costs that Facebook does.
LinkedIn is the best social media platform for business networking. Building a network on LinkedIn can help you generate solid leads. As they say, "Your network is your net worth".
Videos
Creating and posting videos on your website and social media channels can have a tremendous positive impact on the chances of visitors reaching out, or referring others to you. Some of the videos you can make are:
Client testimonials describing the wonderful experience they had with you.
Achievements you have earned.
Reasons people should do business with you rather than your competitors.
Informative real estate tips.
Real estate market conditions reports.
Once you have created a few videos, you can use them to advertise on Google's display network (including YouTube).  You can also use them for Facebook video ads, as well as a variety of other great social media channels.
Video is more appealing, and can more evoke emotion. Something pictures and text descriptions cannot do as well. Emotion is a big reason why people buy real estate. Adding real estate virtual tours to your listings will increase the likelihood of buyers reaching out to request information.
Blogging
Nowadays, knowing how to write a good blog has become a very important part of any online marketing strategy, and real estate lead generation. It is very important to create and maintain a blog section on your site. Posting at least one new blog entry per month is a must to ensure its effectiveness. Blogs provide you with the opportunity to appear under more relevant real estate search terms, and provide your current and potential clients with helpful information. This will ultimately increase their loyalty and trust.

Pay Per Click
Google Ads and Pay Per Click (PPC) advertising provide Real Estate Agents and agencies with the opportunity to display ads on any relevant search term, providing exposure for your properties while keeping you front and center for significant prospects. A daily ad budget can be set for each campaign and targeted to cities, boroughs, or postal codes of your choice.
Support your PPC campaigns with optimized PPC landing pages.  These landing pages can be focused on generating buyer or seller leads.
Setup re-marketing tags to re-target those who visited your properties without submitting the request-for-information form.
Facebook Re-Targeting
Many people are unaware of how impressive the return on investment (ROI) is for Facebook advertisements. The potential is incredible when you combine it with the ability to retarget customers who have already expressed interest. There is a restricted amount of space in users' News Feeds, so the cost per engagement won't stay this low for very long.
Google Pay-Per-Click, which formerly had the highest ROI of any type of digital marketing, and Facebook advertisements are comparable. Pay-Per-Click advertisements are still quite effective, but their cost increased when larger businesses began investing in the market.
You should concentrate on using Facebook to produce real estate leads online. A million dollar company may be built only on Facebook leads. There are many people who are dominating with only their network and aren't even using Facebook Ads.
Podcasts
Create a podcast to connect with your clients on a personal level. Audio and video content is far more engaging than email.
Offer weekly or monthly podcasts regarding subjects such as real estate market conditions in the area you operate. Providing valuable information will quickly increase your popularity, and earn you a huge advantage over all other Real Estate Agents, since there are very few who are taking advantage of podcasts to generate real estate leads online.
Lead Generating CMS
Content Management Systems make it easy to generate real estate leads online and build a pipeline of prospects quickly and stress-free. There are several lead generating CMS platforms on the market.  However, we recommend PowerUp Leads for its user friendly interface that generates real estate leads at an affordable price.
Influencer Marketing
Making ties with powerful industry influencers is one approach to expand your business. With social media, we support one another (likes, comments, shares, etc.). We are significantly increasing our audiences by promoting one another's work.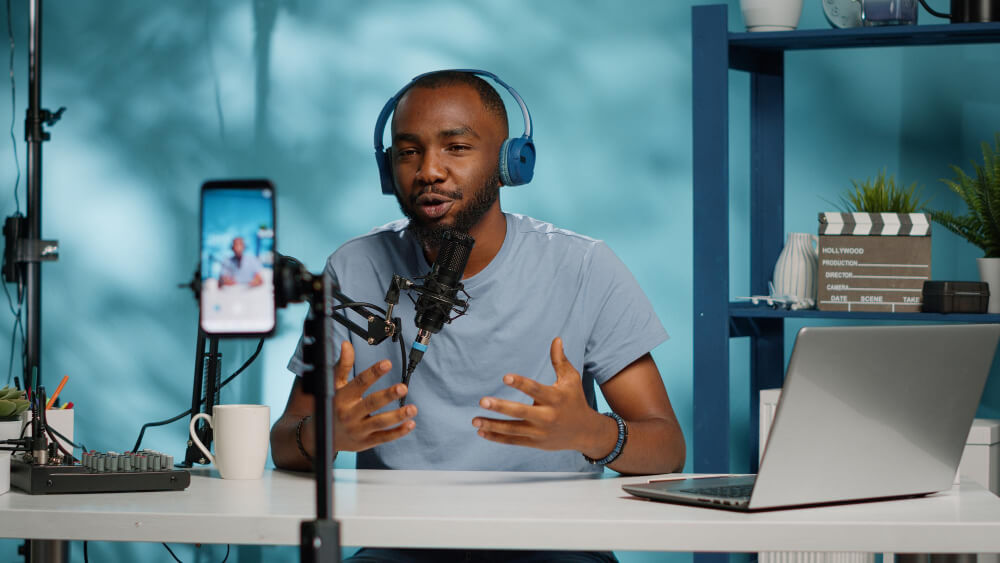 You should use this type of marketing as well since it can make your presence on social media become viral. Everything else comes into place after you go viral on social media because you're earning social worth, which has both direct and indirect advantages for your capacity to produce real estate leads through digital marketing. 
Nail Your Unique Value Proposition
In fiercely competitive markets, real estate brokers often struggle to set themselves apart. Every real estate broker seems to be obsessed with the costs and specifications of a home. 
While emphasizing a property's advantages is crucial, it doesn't explain why a specific buyer or seller should deal with you rather than someone else. 
This is your unique selling value position or proposition, often known as a USP. It distinguishes you from others. What makes you the realtor that potential buyers and sellers want to work with is also more important. 
By writing out what differentiates you from other real estate brokers, you may compile a list of your "game changers." 
What is the clear benefit of working with you? 
It might be quick service, a high close rate, fast closing times, a lower price, time savings, etc. 
Then, simplify the top two or three advantages into a single statement. "Sell your property faster with my industry-leading closing times and responsive service," as an example. 
Every marketing channel where you want to create new leads should feature your distinctive value proposition. By distinguishing your offerings, you may increase engagement, click-through rates, and the number of leads for your listings across all channels. 
Conclusion
Clearly you need to take full advantage of generating leads online so that you can be better than your competition. We hope that this blog has taught you how to generate real estate leads online. If you are already busy and find it hard to manage your online marketing initiatives to their full potential, we suggest that you delegate those tasks to a digital marketing agency with the expertise to generate real estate leads online.  Take action today and grow your business!
---
For expert consulting and execution to generate real estate leads online, call 514-360-2187 or email info@marketingwebsites.ca